Off-Road Ready Retractable Hard Tonneau Truck Cover
✔ Off-Road Ready 
✔ Heavy Duty Aluminum Slats 
✔ Low Profile Design 
✔ Stoppable in any position 
✔ Dustproof & Waterproof
Off-Road Ready Retractable Tonneau Cover
BE READY FOR THE NEXT ADVENTURE
Whether it's a vacation trip to the beach with the family or a hunting trip across the country with the buddies, you can feel confident with our tonneau cover. Because we all want a cover we can trust in any situation. Trust that our cover will stay dry and secure and that the cover will last a lifetime.
Retractable truck bed cover with integrated rail system for accessory customization and a stylish matte finish. *Crossbars sold separately*
Cover maintains full functionality even with cargo loaded on top, and is key lockable in any position.
Hardware, such as Mounting Bracket and Bolts are included, and total installation is around 30 minutes. (Need to drill holes for drainage tubes)
Low-profile patented design; Incredibly strong and easy to use, Off Road ready and H\heavy duty, add on Sport Rack Available
UV Protected; No Fading, No Maintenance; backed by a Limited Lifetime warranty!
Tonneau Cover Available Models
Ford F-150 (2004-2022) - 5.5ft Bed
Ford Ranger (2019-2021) - 5ft Bed
Ram (2009-2022) - 5.7ft Bed
Chevrolet Silverado (2007-2022) - 5.8ft Bed
Chevrolet Colorado (2014-2021) - 5ft Bed
GMC Sierra (2007-2022) - 5.8ft Bed
Toyota Tacoma (2016-2021) - 5ft Bed
Toyota Tundra (2007-2021) - 5.5ft Bed
Nissan Titan (2017-2021) - 5.6ft Bed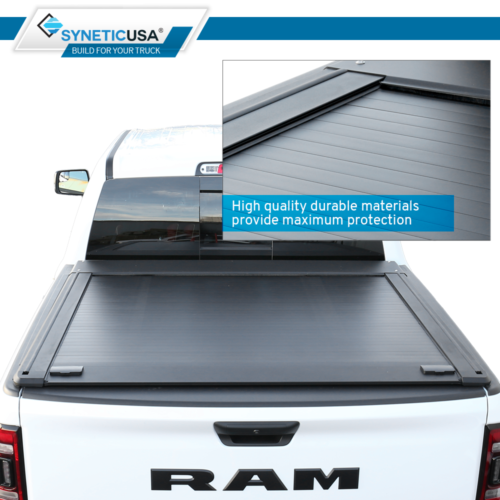 Heavy Duty Aluminum Slats, Off Road Ready!!
Constructed of strong, aluminum slats and powder coated in a matte, textured black finish to protects your truck bed from rain, snow, salt, leaves and more.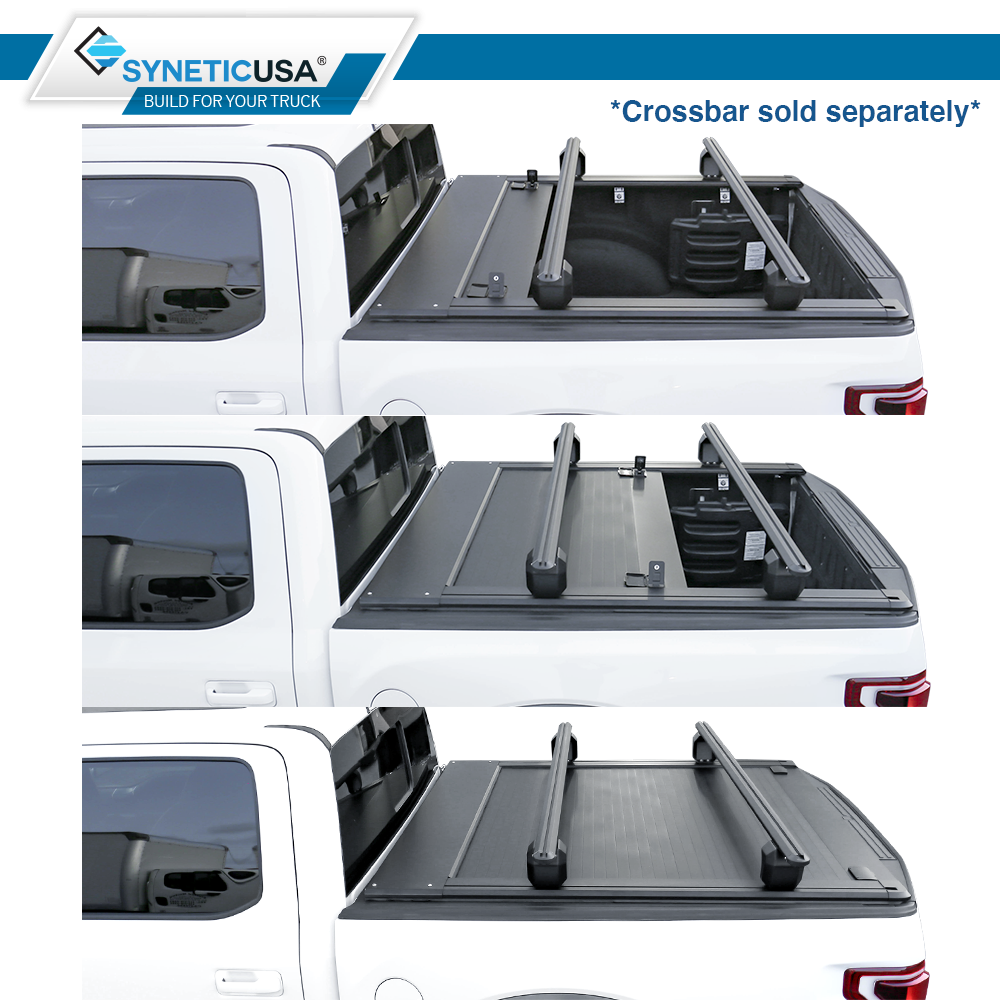 Low Profile Design
The low-profile design incorporates a front cover that is flush with the truck bed cover, and the matte finish provides incredible scratch resistance and adds style to your truck.
Stoppable in any position
The secure key-lock system offers protection that no soft cover can. The cover can be rolled open in any position and offers you ultimate cargo protection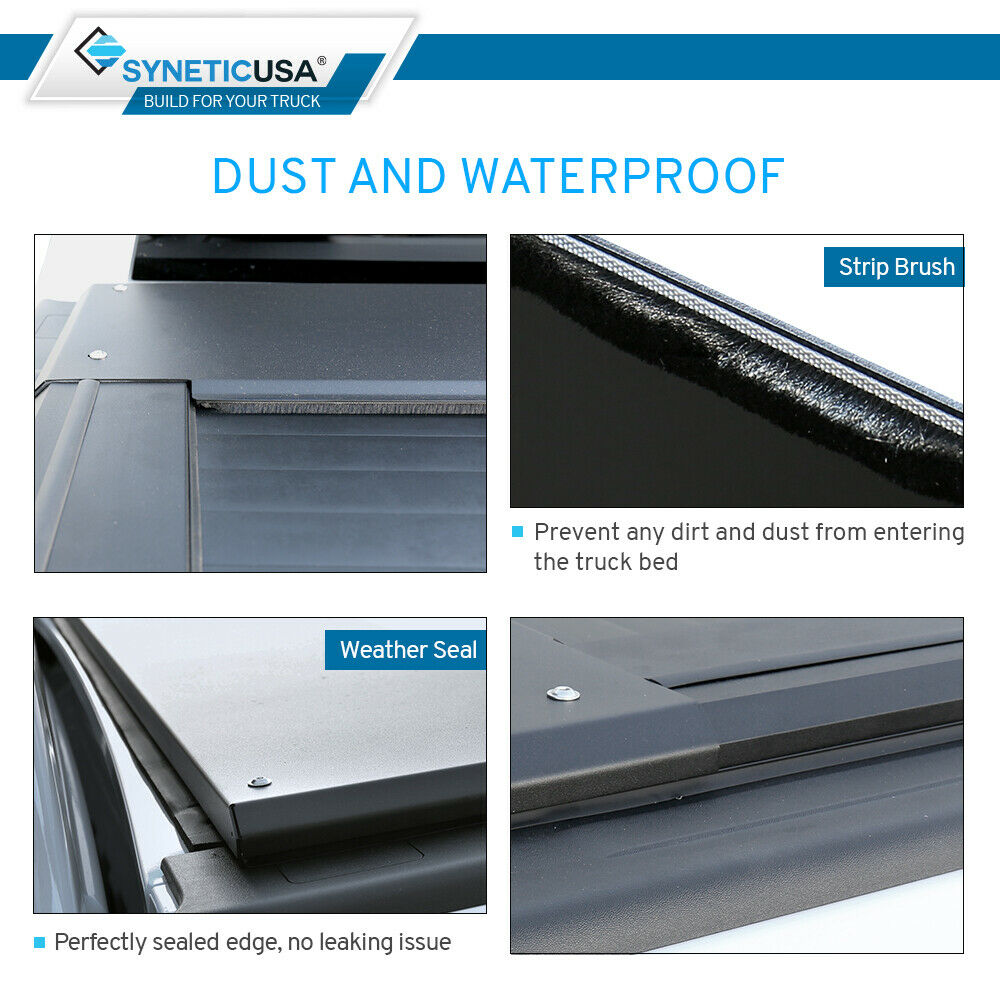 Dustproof and Waterproof
Dust and waterproof design features allow our truck bed covers to always stay flush to the rails which helps to create a dependable seal and keep the elements out and protect your cargo.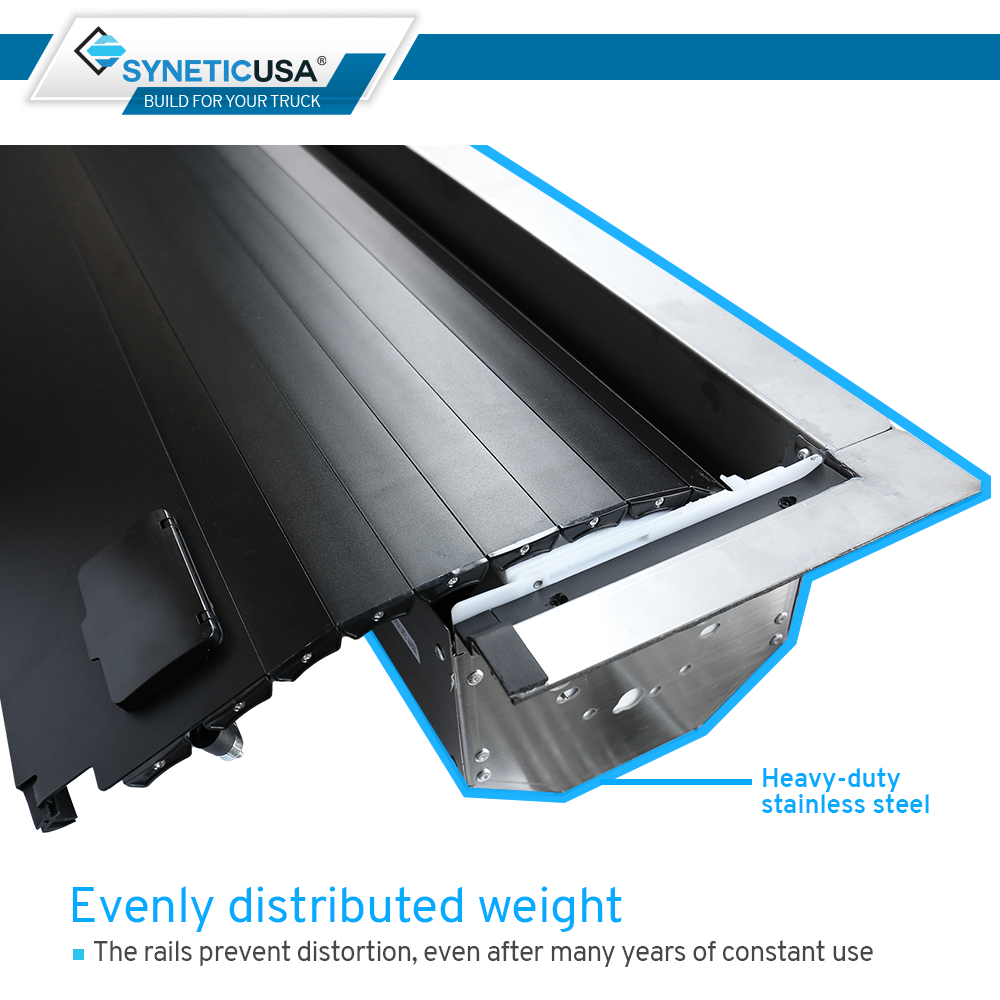 The compact storage canister
approximately 9 inches squared, contains a unique spiral track system that prevents the truck bed cover from coming into contact with itself as it opens or closes.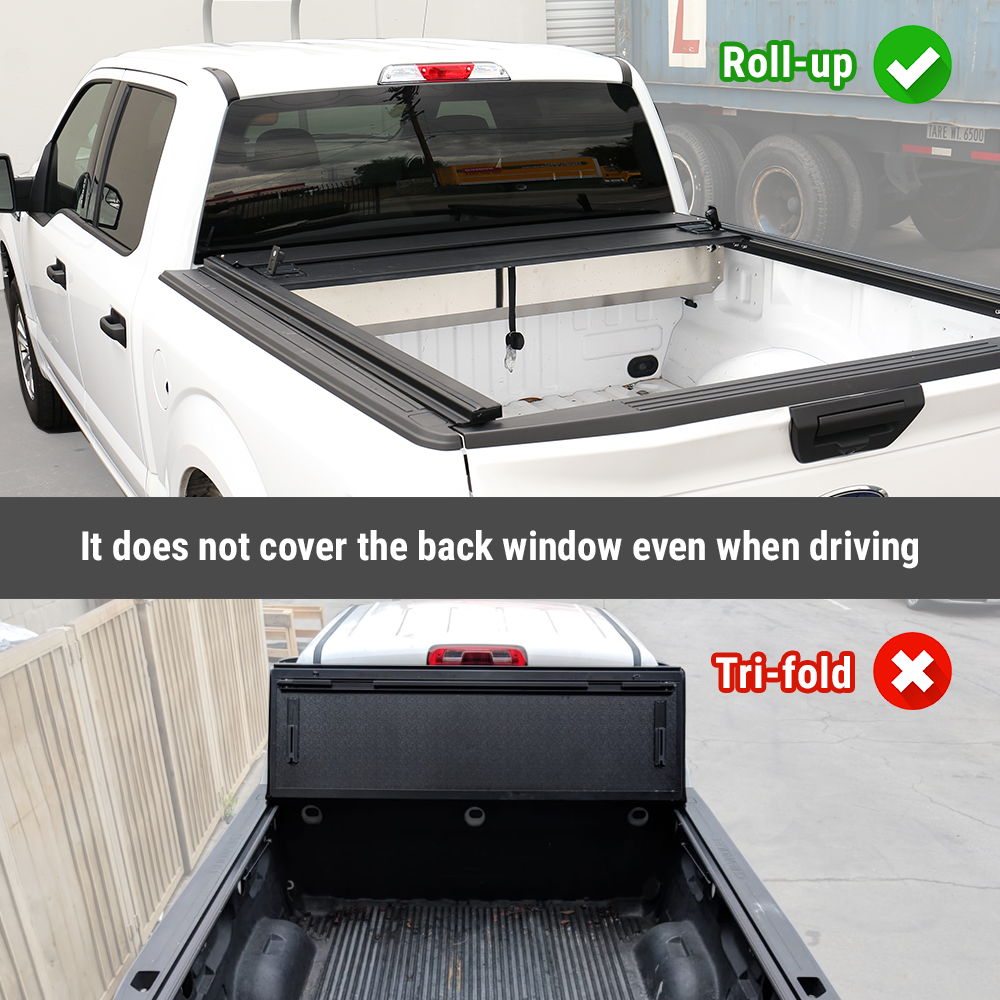 Works better than Hard folding covers
Tri-fold covers have serious weakness: driving while the cover is open, strong wind can destroy the cover. Unlike the tri-fold cover, our cover will not have this issue.
Easy to Install
Step 1 - Install the rails to the canister
Step 2 - Assemble the front cover
Step 3 - Place the waterproof pad to both side rails
Step 4 - Lift the assembled cover into the bed and position the rails
Step 5 - Install the distance bar
Step 6 - Install set of clamps to stable rails
Step 7 - Install drain tube
5 YEAR WARRANTY
US Local Customer Support 626-360-5034